What's The Issue?
The Greater London Authority (GLA) recently prepared an Infrastructure Coordination report titled West London Electrical Capacity Constraints which it issued to property developers operating in West London to notify them of potential power supply constraints in the region. The issue highlighted by the GLA's research has the potential to stall residential and commercial developments. It is expected to impact the West London Boroughs of Ealing, Hounslow and Hillingdon, as well as outer West London areas such as Slough and Egham.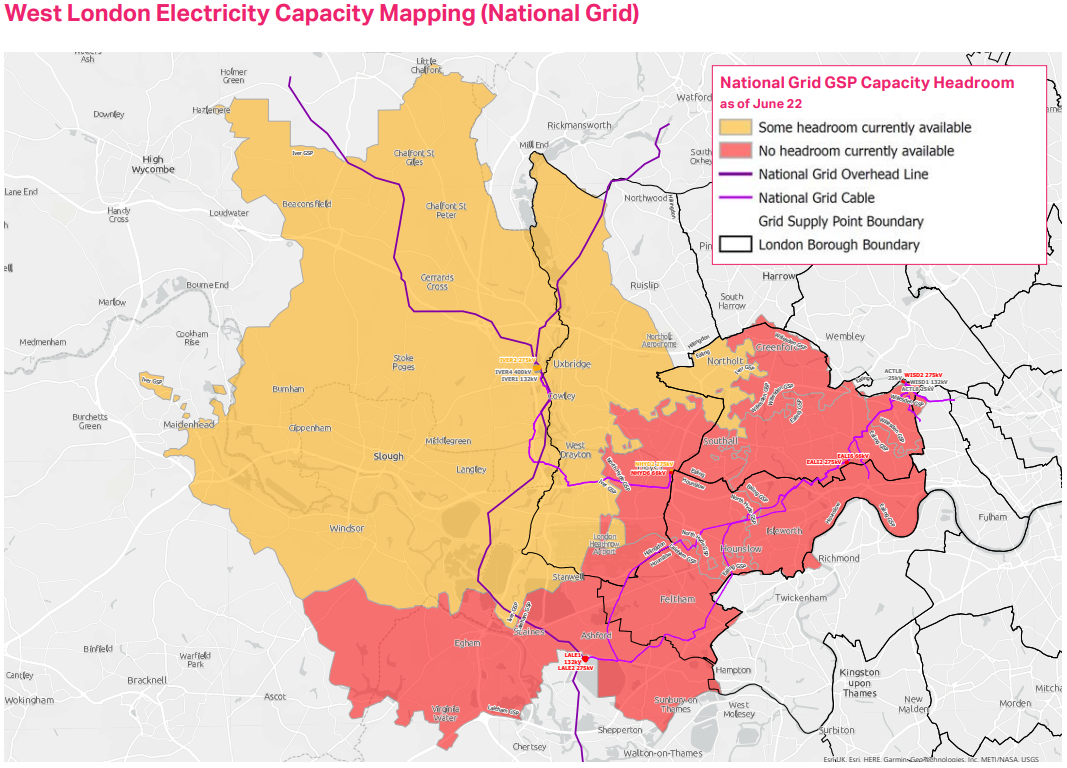 (Source: GLA)
The problem appears to be exacerbated by a huge increase in the number of data centres being developed in West London, particularly around the Park Royal area, which has significant energy capacity requirements. These data centres can be of considerable scale; for example, one proposed at the former Renault site in Park Royal is 8 storeys or 44 metres tall. Data centres are attracted here by the area's proximity to Central London as well as access to trans-Atlantic fibre optic cables that run along the M4 corridor. The energy usage of these schemes is substantial and, in some cases, as large as a town or small city, so the huge growth in this localised area has meant the current power supply in the local grid has effectively been reserved for years to come. In addition, there is latent demand for EV vehicle charging and electrified heating systems as we look to move towards a low carbon future.
However, the GLA report also highlights the fragility of the electricity infrastructure in the West London region, a lack of coordination between the National Grid, which is responsible for generation and transmission on a national level and the Scottish & Southern Electricity Networks (SSEN), who own the local electricity distribution network and the long lead-in time for major upgrades to the existing system. Providing more capacity requires solutions at both regional and local levels.
What does this mean for development?
This is significant for housing delivery in London, where the three Boroughs above contributed over 4,000 new homes in 2021, equivalent to approximately 11% of the new housing supply in London. Smaller schemes of less than 25 units are not expected to be impacted by the power constraints; however, in London, the majority of new homes are delivered in larger schemes above this threshold.
One example of the problem is at Network Homes' development in Southall, where it has been cited that difficulties with securing an electricity supply have delayed this 575 home scheme. The site benefits from full planning permission, as well as an agreement with Build to Rent developer Grainger to acquire the private units, which would provide much-needed affordable and private housing to the local area.
In an uncertain environment with wide-reported build cost inflation, issues in securing a connection to the local electricity network could have a significant impact on the viability of housing projects, which, if delayed by months or years, could incur substantial increases in cost. We understand some applicants in affected areas have been informed there is currently insufficient electricity capacity for new connections for several years.
How can this be solved?
The GLA is working with the electricity industry to look at potential solutions to the problem in the immediate term to address the delivery of much-needed housing developments in the area. Wider infrastructure improvements that will increase the capacity of the electricity grid could take up to a decade; therefore, a more immediate solution is required.
Solutions being investigated include giving priority to schemes with planning permission and reviewing schemes that have locked in future capacity to ensure that they are still going ahead as planned. The GLA is advising developers to engage with SSEN early in the development process to try and ensure that delays are mitigated.
Solving this issue now will be essential to support housing delivery, including affordable homes, in West London, which includes growth areas such as Old Oak Common. This could also inhibit forecast growth along the Elizabeth Line corridor through Ealing towards Maidenhead, where capacity issues are identified. The respective local planning authorities largely rely on such growth to sustain housing delivery, which could result in Councils falling short of five-year supply requirements and tipping into tilted balanced territory.
Immediate progress from the GLA, neighbouring planning authorities and the electricity industry to provide a temporary fix whilst long-term solutions are implemented will be carefully watched by many across the housing industry.
For more information on our work in London, please visit our city of tomorrow page here.